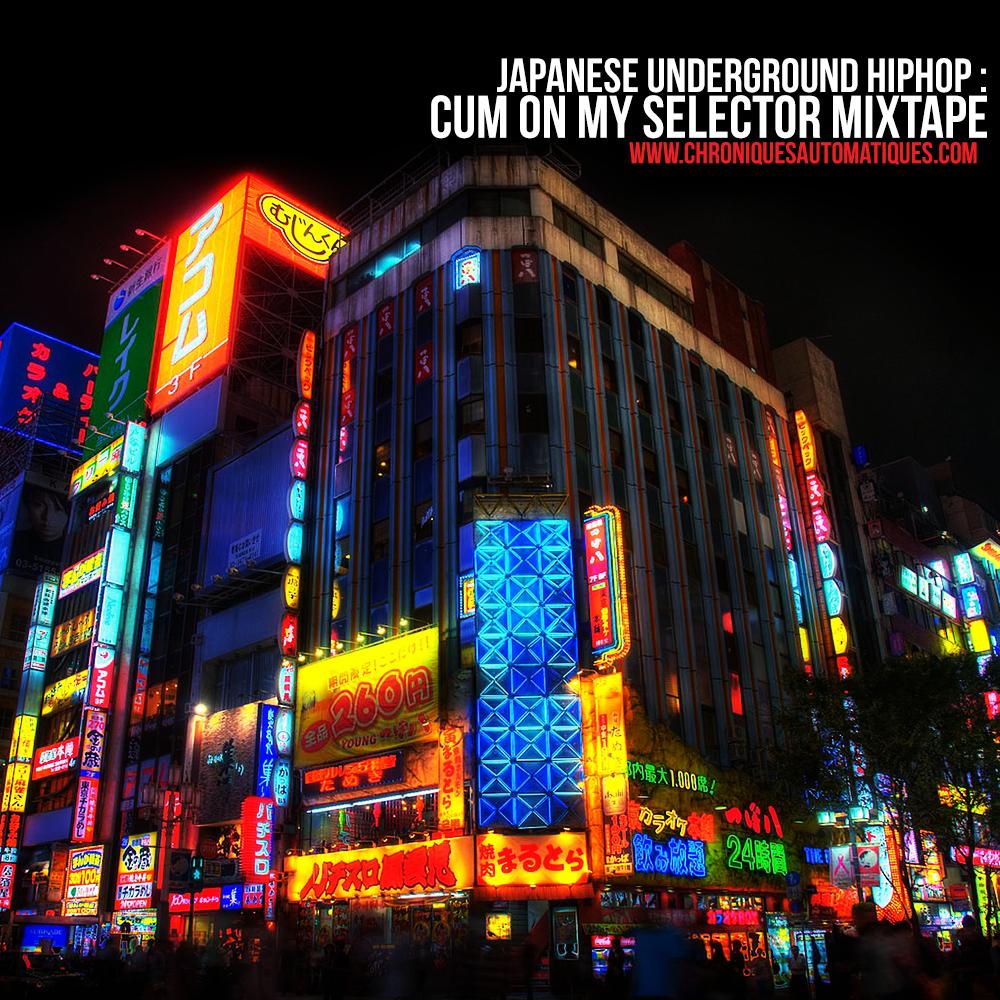 >>DOWNLOAD HERE<<
>Fichier .cue pour pistes séparées / .cue for Splitted Version<
This mixtape crystallizes 4 years of listening to Japanese hiphop to death, hanging out in shibuya music shops, getting lost in Shinjuku live houses, chillin' in Harajuku on skateboards… As a huge fan of J-rap, and pretty sad about the international treatment of this music, I decided to shed some light on it, even in a very humble way. Of course, Japanese hiphop is too rich to be sum up in 90 minutes, but we tried to cover a broad spectrum of music, with a mixtape separated into three main parts: some street bangers, lots of crazy experimental tracks, and a bunch of laidback tunes. In this Cum On My Selector Mixtape, you'll find the new guard of Japanese MCs (Issugi, SLACK, Zone The Darkness…), demented musicians who forgot the concept of boundaries (Dotama, PSG, Fragment…), amazing beatmakeurs who've no reason to envy international producers (Budamunk, Watter, XLII…), and even some forgotten treasures (Shuren The Fire, Hakuchumu). You'll even encounter some kings of the Japanese rap game, like Tha Blue Herb or Kan.
You may not like everything there, but I definitely hope that you'll at least find some good artists to dig in the future. Don't be pissed off if you don't see some of the Japanese HH legends in the tracklist (like King Giddra), because this mixtape is mainly aimed to outline the best of today's Japanese rap.
Well… You're searching for some good Japanese bands, but they're hard to find because kanjis are a pain in the ass? For you, J-rap is only represented by Koda Kumi or M-flo? You only wanna listen to good tunes, but you've never thought about Japanese rap? You love DJ Krush's stuff, but you'd like to hear more? Well, in any case, we hope that you'll like this selection
このミックステープは、フランス人から、日本のHip Hopへの愛の宣言です。4年間にわたりストリートラップ、実験的な楽曲、レイドバックな曲という3つのカテゴリーの中から選曲したものです。Slack, Zone The Darkness, Rau Def Issugiなどといった最高の日本のMC達のトラックや、Dotama、PSG、Geskia!や、Kan, The Blue Herb, Macka-ChinといったJ-ヒップホップの最も尊敬すべきアーティストや、Shuren, The Fire, Hakuchumuと言ったような忘れられた宝のようにバラエティにとんだ選曲が聞けます。このMix tapeは4年の間タワーレコードやアングラなライブハウスに行き有能なbeatmakerを探している際に見つけた楽曲の総括です。外国人のイメージする歌舞伎町のスケッチーな通りや渋谷のクレイジーなネオンサイン、そして、原宿でのスケート…アメリカやフランスのラップと同じ位このミックステープには良質なものが含まれています。
このMix Tapeはお金や何か得るためにリリースしたものでなく、唯一の目的は、ヒップホップへの真の愛、そしてフランス人と他のヨーロッパの人々に日本のヒップホップの良さを見いだして欲しいという事です。
Grand amoureux de Hiphop Japonais, et assez triste du traitement international réservé à la discipline, j'ai pendant longtemps ruminé le projet de mettre en avant, même de façon modeste, des groupes que j'adore.
Conscient que le genre couvre un spectre bien trop large, cette tape est construite en 3 parties, distinguées à chaque fois par une piste instrumentale, pour savoir où l'on se place. Cette mixtape se prend néanmoins comme un tout, qui n'hésite pas à se balader du rap old-school aux folies déstructurées, avant de partir vers un hiphop street âpre, ou des morceaux plus laidback.
Dans ce Cum On My Selector spécial, on trouvera donc la nouvelle garde du j-hiphop, espoirs qui risquent d'être des grands noms dans les années à venir (Issugi, SLACK, Zone The Darkness…), des laborantins fêlés qui ont oublié le mot "norme" (Dotama, PSG, Fragment…), des beatmakeurs qui n'ont rien à envier aux cadors internationaux (Budamunk, Watter, XLII…) et même quelques trésors oubliés du Hiphop underground (Shuren The Fire, Hakuchumu…). Avec, évidemment, pour encadrer tout ce beau monde et distribuer les mandales, quelques boss incontestables du rap game nippon (Tha Blue Herb, Macka-Chin, Kan). Ne vous formalisez pas de l'absence de grands noms des années 90, la mixtape a vraiment pour objectif de se focaliser sur les têtes actuelles du rap from Japan. D'autant plus que ceci est un volume 1.
Bref… vous cherchez des noms d'artistes de Hiphop japonais sans en trouver ? Vous adorez certaines grandes têtes du mouvement, mais ces putain de kanjis vous empêchent de découvrir d'autres groupes ? Pour vous, le rap japonais, ce n'est que M-flo et Koda Kumi ? Vous voulez juste écouter du putain de bon rap venu d'ailleurs ? Dans tous les cas, j'espère que cette mixtape vous foutra des papillons dans le bide. Au final, le seul but de celle-ci est de donner éclairage un peu différent du peu que l'on peut trouver habituellement sur le Hiphop Japonais. En espérant que le tout fait mouche, et que vous aurez envie de partager cette mixtape à tous vos contacts, histoire que Télérama s'intéresse enfin au genre.
>>DOWNLOAD HERE<<
>Fichier .cue pour pistes séparées / .cue for Splitted Version<
Tracklist :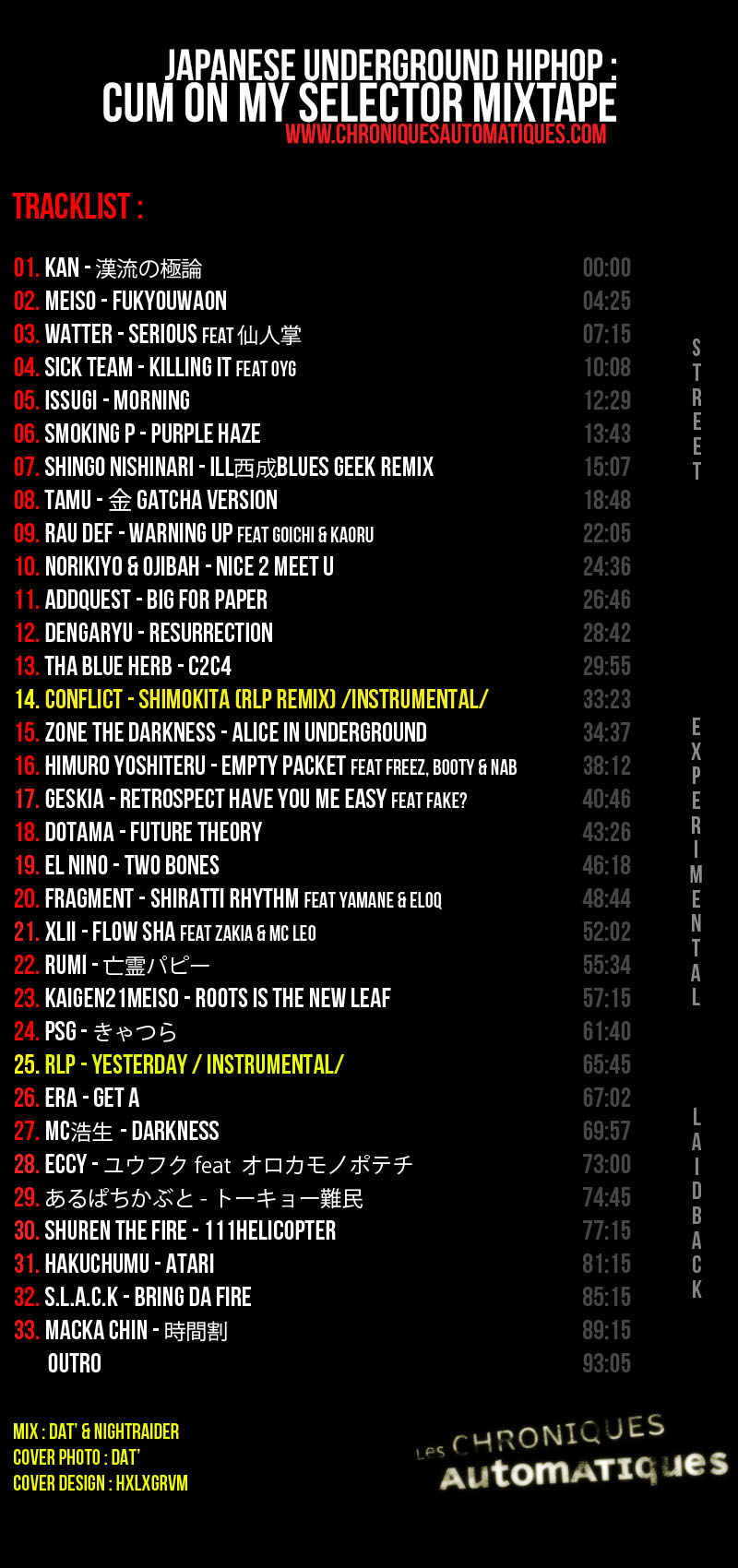 En bonus, un teaser présentant la mixtape :













En deuxième Bonus, 10 MINI-CHRONIQUES détaillant certains artistes de la tracklist, et donnant des infos sur ces derniers.













Dat'

Thanks to Myuji & Darren.

Thanks to all the Cd shops in Tokyo (and the staff of Disk Union Shibuya!).










Tags: